I want to make a post about the kitchen now that I feel it's finished, but then I looked at other people's kitchen posts and I realized that I'm really bad at photographing kitchens. And really everything else.
So... how about a rambly post about sewing and TV?
You know all you have to do to get me to watch a TV show? Just put the whole thing on Hulu Plus. That's really all it takes. If I can watch the pilot and keep going through the whole series or at least a season, I'll do it. I'm a Libra, I don't like making decisions. Having the next episode waiting for me means I don't have to make a decision!
Lately I started watching season 10 of Project Runway, having no idea which seasons of Project Runway I've actually seen at this point. It's been years since I watched it, but it seems pretty much what I remembered - over-dramatization of the difficulty of sewing a dress. I mean, it's probably hard coming up with something new and innovative that you're being judged on, but COME ON! They get to go to Mood Fabrics with hundreds of dollars and they're still all "WAH WAH WAH! They don't have anything I liiiiiikeeee!"
ARE YOU KIDDING ME?!?!
Case in point, I wanted to make a dress using this pattern from Project Runway Season 5 winner Leanne Marshall.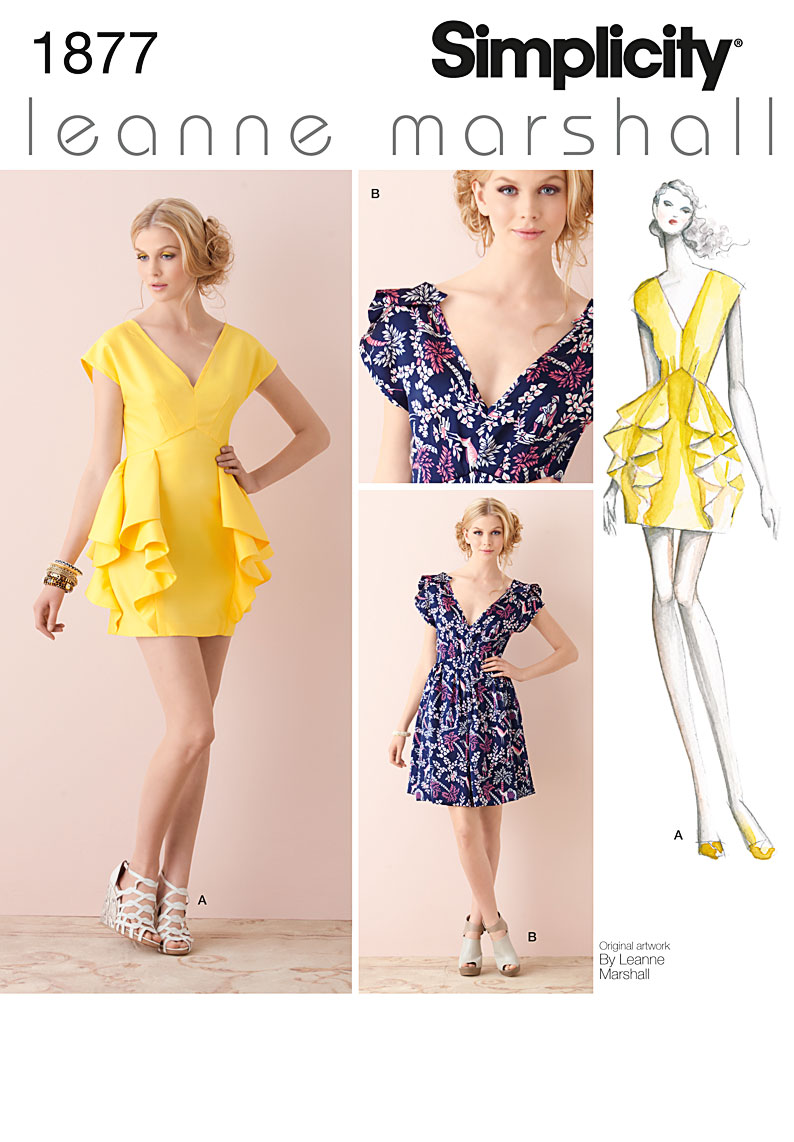 Do you see that cute fabric on view B? It looks like some kind of silk print with little Chinese farmers and stags leaping through a forest of pink ivy and palm trees. WHERE DO YOU GET THAT? Where I live I have three choices for fabric: JoAnn's, Hancock, or Wal-Mart. You know what they don't have and never will? Cute silk prints with little Chinese farmers and stags leaping through a forest of pink ivy and palm trees. However, there are roughly 500 different Disney character prints in quilting cotton for the apparent masses who are into that sort of thing.
But I like THAT DRESS with THAT PRINT, so I wanted to find something as close as I could. Unlike at Mood on Project Runway, I found a fabric that I liked and was prepared to get it cut even though it was $7.97 a yard, which is on the high end of my personal price range. As an aside (I told you this was going to be rambly), sometimes people ask me about sewing clothing or mention that they could save SO MUCH MONEY if they made their own clothes. These people are living in a dream world. Fabric and notions are such a racket, and while occasionally you score a deal, unless you are shopping at high end retail stores to begin with, you probably won't save much by sewing. It probably costs about as much to make a dress as to buy one from, say, Target or H&M, although I suppose with those there is the lingering question of the ethical choices of the textile manufacturers. Are their workers well treated and fairly paid? Are they using chemical processes that create a lot of pollution? And I really can't say. Honestly I don't know much about the sources of commercially available fabrics, although it does seem that many of the fabrics that I've purchased were made in the U.S.A. (sometimes it says it along the selvage edge). Everything gets ethically complicated when you think about it enough. Suffice it to say that I sew for personal satisfaction more than budgetary reasons, but I don't like it to become too expensive a hobby.
Back to the point, there I was, $7.97 a yard fabric picked out at Wal-Mart, but the line at the cutting counter was so long that I didn't have time to buy it. Also I needed a zipper for a specific project that I was doing for someone else and they didn't have the right thing. So I resolved to just go to JoAnn's. Before I got a chance to do that, however, I had occasion to be at a different Wal-Mart where the same exact fabric was on clearance for $4/yd. Score! So I waited at the cutting counter. I asked two different employees to find someone to help me. I was there for HALF AN HOUR and no one came. So I left, stopping to complain to a manager on the way out who THEN offered to help me, but I had places to be and no time or patience left by then.
The next day I drove up to JoAnn's which, despite the larger selection, had nothing even close to what I was looking for. They did have the zipper, though, so I bought that and steeled myself to return to Wal-Mart. This time, there was a line at the cutting counter, but still no employee there. One of the ladies in line said she'd been waiting thirty minutes. I told her what had happened the day before. She was asking any employee who passed by to find help. Finally this one woman who was stocking stuff in a different department came over and said she could do it. We all thanked her profusely and two of us just bought all of the fabric left on our respective bolts because she looked dubious about cutting. Success!! I finally had acquired fabric which, while not as awesome as the fabric in the pattern, was still evidently the best choice in a 30 mile radius.
Navy? Check. Blue, green, and purple flowers? Eh, it'll do.
So I laid it all out and got to cutting, deciding to omit the little shoulder flappy things. Construction was fairly easy, and I loved that it has pockets! There is a pleating detail at the center front of the skirt and the rest is gathered. I liked this because it makes the gathered skirt look more fitted and sophisticated and slightly less frumpy, polygamous housewife as gathered skirts can lean toward.
Normally I prefer invisible zippers, but recently I came across a huge stash of vintage zippers and got over 100 of various colors and lengths for $8. This one was perfect for the job at hand!
And voila!
I wore it to Back to School night at the middle school where I promptly froze to death because they had the air conditioning going full blast. I really like the pattern and will make it again, but it's big enough that I can put it on without the zipper so I'll definitely size down next time. I especially liked the way the neck and arm bindings were, and I could see doing them in a contrast color. I think this dress would work well sized down and made in knit, too. I didn't end up liking the shoulders, so I added rouching along those to narrow them a bit. Next time I'd change the length of the shoulder, or maybe actually make the flappy things. Maybe they would help.
Still, I like it, which is good after all the trouble I went through to get the fabric! And in the end, I'd guess it cost around $10 total to make, which is something I bet you'll never see on Project Runway!